Open Water Swimming Marlborough Sounds style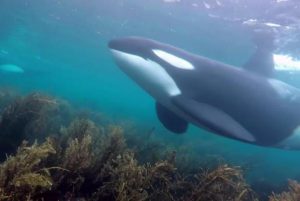 Our recent move to Marlborough has opened up many new doors and areas for training and exercise adventures. Anakiwa being my new favourite.
With many hours spent training for IMNZ, Anakiwa is a great base to swim along the beautiful coast line, bike through the Queen Charlotte drive and run on the track.
New Zealand is also very lucky to have a resident population of about 200 Orca.  Many of whom visit the Marlborough Sounds, especially between November and Feb. They love to come into the shallows and teach their young how to heard and catch sting ray.  You know where this is going…Right?
Once such training day I planned a 2-2.5k swim out and back from the Outward bound Wharf at Anakiwa. The water was quite murky after recent rain with visibility of about 1.5m.  I made my way up the shore line about 50m off shore. Towing of course my highly visibility fitandabel RealSwim buoy. ( If you have never used one, they are great.  They have no impact on your swimming and can be seen from a long way off.)
I got to the turn around point was was making my way back with about 500m to go when along my left side ( I breath to the right so couldn't see it clearly)  a long dark shape went past me and sending shivers up my spine.  I didn't know what it was but could feel something there.  Next stroke I looked straight down and right under me slide a beautiful black and white Orca glided past me.  We were in about 3 m of water, so not much room for the both of us to fit. Any way the Orca carried on, seemingly less interest in me then I was in them. At this point my heart was racing and not really knowing what the best course of action was I carried on swimming. Trying not to panic or change what I had been doing, I carried on, although fair to say it was the quickest 500 I has knocked out for some time. Upon reaching the Wharf at Anakiwa I spoke to the guys from Outward bound and asked them if they had seen any Orca. They sure had, telling me about the whole pod they watched going along the coast line right through me. My swim boy meant they could see me in the distance with my new friends.
If anyone ever says swimming is boring, they Must be doing it wrong… Grant
Thanks to former Christchurch resident Grant Boyd for this update from the 'far north'.Ed.