About Fit&Abel
Swim Fit&Abel
The pool is normally where swimmers are 'born'. A pool provides a safe environment to get comfortable in the water, learn swim technique and improve fitness. Once swim technique and fitness have been achieved the options become plentiful. If you are of a competitive nature then competitive swimming, triathlons or an ironman event may be your calling. If you enjoy the fitness of swimming but are also drawn to the relaxing and 'zen like state' that can be achieved with longer swims or you just enjoy swimming in a natural environment then open water swimming
Swim FitandAbel – we are open water swimming specialists.
We strive to develop, encourage, lead and educate in order to grow our awesome sport of open water swimming.
We provide
Swim Safety
Swim Technique Analysis
Training and Development
Community Engagement
Advocacy on behalf of open water swimmers
You can expect:
Expert swimming knowledge.
Willingness and ability to listen to your needs.
Exceptional customer care.
Honesty and integrity.
Fun.
Bespoke Swim services tailored to your abilities and aspirations.
Check out our Events and Bookings page or contact us info@fitandabel.com to get started.
Together we can redefine your limits and achieve great things
Meet the Team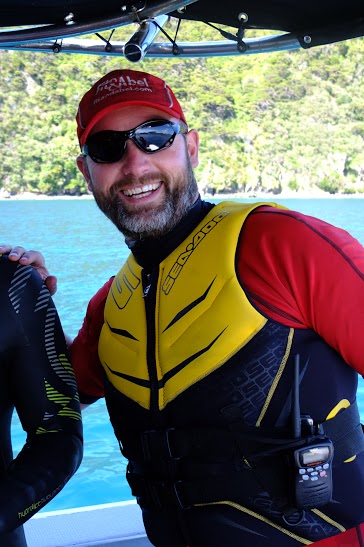 Dan walks the talk … In July 2017 Dan swam the English Channel in 11 hours 15 mins. In September 2017 he went on to become only the third person to swim a circumnavigation of Rarotonga in 11 hours and 2 minutes. Check out the highlights here ; English Channel  or Cook Islands Swim
On March 22 2013 Dan completed the 88th successful swim crossing of New Zealand's 26km Cook Strait. His time of 6 hours 15 minutes is the fourth fastest swim crossing of Cook Strait.
Born in Christchurch, New Zealand it did not take long for Dan to show he was going to take life by the horns and make the most of it. A competitive swimmer from an early age Dan competed at a National level from 1988 through to 2008. This 20 year elite career included national titles, a 4 year stint in the USA at the University of Iowa (a Division I college) where he graduated with a BSc and academic accolades. Dan's last National swimming competition meet was in October 2008 at age 33, when he was a finalist in the mens 100 Butterfly.
After graduating college in 1999 Dan took a short 'break', during that period he trained upcoming swimmers both in the water and in the gym, while working in the marketing profession for a well recognised adventure clothing and equipment manufacturer. Living his ethos of making the most of life Dan also used this time to become a qualified pilot and experienced scuba diver.
In 2001 Dan joined the Royal New Zealand Air Force as a commissioned officer. He immediately made an impact graduating top of his commissioning class in June 2001 and was awarded the trophy for top graduate in academics, leadership and personal qualities. Amongst his achievements during an eight year career, Dan qualified as a Navigator, was the air tasking officer during relief efforts in Indonesia and Thailand after the 2004 Tsunami and also worked in the Demitilarized Zone in South Korea, providing an essential diplomatic role between international delegations, South Korean political and business interests and the military (a role for which he was highly commended).
During his career Dan maintained a high level of physical fitness, focussing on swimming and general fitness, including winning mutliple New Zealand National Masters swimming titles and records. He also achieved his Commercial Pilots licence in both New Zealand and Australia.
Dan retired from the Royal New Zealand Air Force in 2010 after a satisfying and rewarding career . As a new challenge Dan moved from New Zealand to London and started working as a manager at a health club for a well recognised fitness brand. Over the next 12 months Dan transformed the club from a poor performer to one of the best performing health clubs in London. Dan also managed to 'squeeze' in an epic relay swim across the infamous English channel in October 2010, and with his team mates raised over £9000 for UK charities.
In 2011 Dan became a UK National Masters swimming champion for the first time.
In 2012 Dan has raced and won age titles in the State NZ Open Water swim series. He also competed in the NZ National Long Course Masters Swim Championships winning multiple events and setting National Records in the process.
In 2013 Dan was the age group category winner (30-39 years) at the Epic Swimming championships in both the 10km swim and the 2.5km swim held at lake Taupo New Zealand.
In 2016 Dan Abel won non wetsuit Epic Masters 2.5km Lake Taupo / first in Age non wetsuit http://oceanswim.co.nz/ 3.3km / first open teams division Wanaka Challenge 70.3 in Feb 2016.
2017 Completed a crossing of the English Channel in 11 hours 15 minutes – check out video of the swim here https://www.youtube.com/watch?v=q33mmnS49AA&t=7s
In the UK Fit&Abel delivers the swimming coaching services under contract to SwimTrek at the Tooting Bec Lido – Londons premier open water swimming training venue.
In New Zealand Fit & Abel provides swim coaching, open water swimming clinics, open water swimming adventures and swim safety services based out of Christchurch.
Dan is Head Coach for Fit&Abel in both hemispheres and also continues to write (Contributing writer for OutdoorSwimmer Magazine), film, photograph and share his passion for swimming, especially in the open water. Check out the updates on our facebook page
Qualifications
Bachelor of Science Recreation Management
CYQ Level 3 Qualified Personal Trainer
UK ASA Level 2 Swim Coaching Award
Swimming NZ Accredited Coach
Member UK Institute of Swimming
Member Swim Coaches and Teachers of New Zealand Inc
Member New Zealand Swimmers Association
Member World Swimming Association
RLS Beach Lifeguard
Surf Life Saving New Zealand qualified lifeguard
First Aid at Work certified
Pre Hospital Emergency Care certified
Save
Save
Save
Save
Originally from England where Chloe swam at National level, she moved to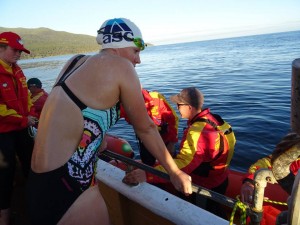 NZ in 2008. Whilst continuing to swim Chloe also took her passion for swimming and used it to help teach and coach the younger members of the squad, gaining her Swim Coaching Certificate. Alongside this Chloe is an active volunteer surf lifeguard and a previous senior operational volunteer at  Sumner Lifeboat (coastguard affiliated) since 2012. In 2016 Chloe completed and was first female (3rd overall) in Lake Taupos Epic Swim 17.5km (swimming it all non wetsuit) and went on to swim the Foveaux Strait, beginning her marathon swim career. In 2017 she swam both the Cook Strait and the length of Lake Taupo.
Chloes' passion is open water and helping adults achieve their goals, whether their goals be distance, speed related or simply learning how to be safe and enjoy exploring the open water. Chloe coaches all levels of swimming from beginner learn to swim through to advanced technique analysis. You can book in to a private lesson or group with Chloe check out the Fit and Abel Coaching Schedule. Chloe also works alongside Dan Abel delivering swim holidays and custom solo swims. For more information on these check out RealSwimadventures.com
Qualifications & Experience
ASA UKCC Level 1 Swim Coach
Surf Lifeguard – Advanced lifeguard
First Aid Certified
Experienced Fit&Abel Swim Coach 6 years +
Senior operational Coastguard crew member 6 years
Health and Safety Diploma Level 6
Fifth person to complete the open water NZ Triple Crown – Foveaux Strait (8th person ever) , Cook Strait and Lake Taupo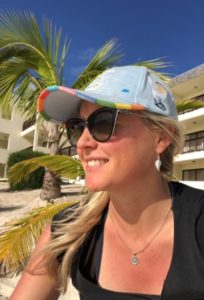 Penelope grew up on a farm in North Otago, and from a young age has participated in sports activities and had a passion for helping and supporting others with their fitness journey.
After attending boarding school in Dunedin, Penelope moved to Christchurch and completed a TV Diploma. She then spent 6yrs working for Whitebait TV on children's programmes "What Now" and "The Erin Simpson Show". A change in direction saw her move to Auckland to complete a Bachelor of Sport at Unitec, and subsequently work for Lagardere in the Marketing team on major sports events including; ITU Triathlon Series Auckland, Queenstown Marathon, Hawkes Bay Marathon, Motatapu, The Pioneer and Auckland Marathon.
Keen to work more directly with people helping them achieve their sporting goals, Penelope moved back to Christchurch in July 2016 and began working with TeamCP as a sports coach. She has herself completed Taupo Half Ironman, Velothon Sunshine Coast, Coast to Coast 2 day 2 person team and 2 day, 3 person team, Christchurch Half Marathon, Challenge Wanaka, Auckland Half Marathon to name a few.
Penelope and Dan's paths crossed in November 2017 as a result of ending up on a team together for Challenge Wanaka 2018. The final result…they got married in March 2021.
Now an integral part of the team Penelope uses her event management and organisational skills to help run the FitandAbel events, swim camps and clinics.
Save