Chopper Challenge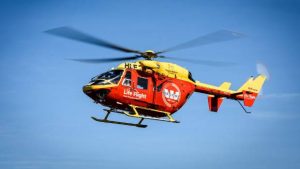 3rd Westpac Chopper Swim Challenge to take off in March
With its 3rd edition just announced for March 2018 the Westpac Chopper Swim Challenge from Waiheke to Auckland is becoming a small fixture in the Marathon Swim Calendar.
It all started in 2016, when three Westpac staffers and ocean swimmers realised over coffee that the Waiheke ferry wharf was exactly 20k from the Westpac Rescue Helicopter base. Given the significance of the Chopper to the island a charity swim seemed glaringly obvious. Dean Madsen had done the 12.5k from Milford to Devonport in atrocious conditions, Michael Buck was preparing for Rottnest (where he finished 2nd) and Olaf Adam, a retired water polo player, had no clue but went along anyway. They convinced a few more punters, found support crews and with the help of the Auckland Rescue Helicopter Trust and a bit of media noise raised $35,000 between 12 swimmers.
The 2nd edition in 2017 attracted 44 swimmers, including eight relay teams. Conditions turned against them in the form of solid 20knots head on winds and heavy swells. The swim became a suffer fest, kayakers struggled to keep their boats going and many swimmers needed a lift from one of the many support boats to make it through the bridge into Judges Bay before the tide-enforced 7 hour cut off. Only two solo swimmers and three relay teams made it to the finish line at their own steam, leaving plenty of athletes pondering another go at it.
The 3rd edition is set for Monday, 26th March 2018. Tides and avoiding recreational boats in the busy Hauraki Gulf drive the date. 60 swimmers have expressed their interest. There is still no entry fee but fundraising is mandatory. Olaf, the lead organiser, is keen for this to remain the main focus. "Swimmers should raise at least $500." That's not hard. "It's a great cause, people happily support it and swimming from Waiheke to Auckland is really tangible for most people, who taken the ferry at least once in their life." Two years ago Axel Wohlfarth raised $7k.
The swim is quite an experience in itself. You start at first light from sheltered Matiatia Bay. After the cruisy first km you enter the rougher waters of the Motuihe Channel. You slog away for 5km before making your way through the narrow gap between Motuihe and Motutapu Island. Here the tide becomes your friend, giving you a gentle push and lifting your spirit as you head towards Brown's Island (a potential toilet stop for your kayaker). Tamaki Yacht Club, your next landmark, is now clearly visible. This stretch goes on for some time. Rangitoto to your right as it looks the same from every angle so you just don't seem to move. Track your progress against the landscape of Auckland's Eastern Bays instead. After another 4 or 5 km you can almost smell the freshly roasted coffee beans and can make out the shapes of European-made SUVs along Tamaki Drive. By now you could probably do with a triple espresso but most likely will have to settle for yet another caffeine gel. Yuk. You bypass Tamaki Yacht Club. Get your friends and family to meet you at Okahu Bay wharf, stop for a little chat and tell them about the great time you're having. You are now on the final stretch and the Judges Bay overbridge is beckoning just ahead of you. After another 2 or 3 km you smile for the camera as backstroke underneath Tamaki Drive. A sharp turn to the right takes you past the wooden wall that separates the bay from Parnell Baths. You may recall the good old days when you jumped off there. You then enter the natural arena that is Judges Bay and imagine the roar of a 10,000 strong crowd (you instantly regret roaring yourself as you swallow water). You may consider swimming butterfly from here. Or not. You reach the beach to cheers from your peers and supporters (unlikely to be 10,000 but still quite a few) and wonder who can give you a ride to the pub.
It's a unique event in NZ by scale and complexity. The safety setup relies on a large number of experienced volunteers, especially capable kayakers and enough support boats to evacuate everyone sin a blink of an eye. Although it takes a fair bit of organisation so far the team hasn't been caught short and always found enough brave souls to give up a day to support the event.
2018 shapes up to be bigger and better than previously. Westpac Bank is putting their support behind the event, helping with logistics and cash. The aim is for all donations to go to the Chopper, not to cover overheads. And who knows, maybe the team can crack the $100k mark this year.
Swimmer numbers are limited. Go to www.chopperswim.nz/register to register your interest and www.everydayhero.co.nz/chopperswimchallenge18 to donate to the Rescue Helicopter.