Lake Fitness
We are very pleased to be returning for a third season of lake swimming this summer at Lake Tahi/Roto Kohatu Reserve. 
The format will remain the same with a short 400m course option and a longer 900m course option, allowing you to progress at your own pace and add variety to your training. You will see in the below map, the two course options, both operating in an anti-clockwise direction, with the short course turn at the yellow buoy.
Lake Swim Fitness is not a coached session, but is a brilliant opportunity for you to train with friends in a safe and supervised open water environment and increase your swimming fitness and open water swimming skills. You can swim for as long or as little as you like between the operating times. Also, bring your own KeepCup and we will provide a hot cuppa for you to enjoy post swim!
Tuesday Mornings anytime between 6:00am – 7:30am
Sunday Mornings anytime between 6.00am – 8.30am
Book Now
Details
Last entry into the water is 30mins before the closing time. 
Swimmers must pre-register online or at the lake. Then on the day, before they entering the water, you must sign in, and then on exiting the water you must sign out.
The start time will become later toward the end of summer, so please check the times when you book.
There are some Sundays and Tuesdays throughout summer that Lake Fitness isn't operating due to other events, please check the calendar carefully. On two occasions we will be running Lake Fitness on a Saturday, instead of Sunday, due to Jet Ski competitions taking place.
There will be no Lake Fitness over the Christmas/New Year period
Minimum ability for Lake Fitness swimming is 1500m continuous in the pool. This is to ensure you feel comfortable whilst in the open water. If you are not yet at this level we recommend attending our Waltham Pool coached groups or having a private lesson with Dan or Chloe. We can support your development and help you build to a capable open water level.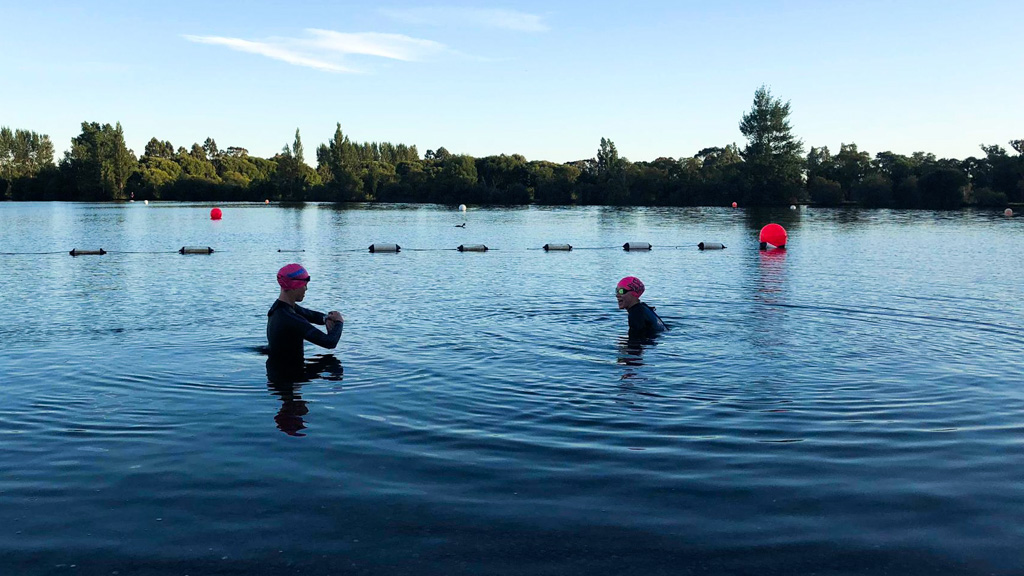 Pricing
You have two options;
Purchase a multi 'group swim pass' (options below) and use one of these passes when registering online for Lake Fitness.

30 swim pass; $300 ($10 per swim)
20 swim pass; $220 ($11 per swim)
10 swim pass; $120 ($12 per swim)
5 swim pass; $65 ($13 per swim)
Your multi group swim pass can also be used for Waltham Pool swim squads or for the Saturday morning open water swim clinics.

Or you can purchase a 1 swim pass for Lake Fitness, either by registering online, or registering and paying on the day. Cost: $15.
Lake Tahi Swim Fitness Operation Procedures
Swimming routes and procedures must be adhered to at all times please
All swimmers must wear a bright cap: Orange, Pink, Red or Yellow
The long course is approximately 900M in length for one lap, and the short course is approximately 400m in length for one lap.
The swim route is anti-clockwise, it runs directly between the four Fit&Abel/RealSwim buoys.
Minimum age is 13 years on the day.
All other buoys are permanent fixtures in the lake and should be used as secondary navigation aids only
You must have pre-registered or have completed a registration form prior to entering the water
All swimmers must sign out of the water at the completion of their swim
Nervous swimmers/first-timers are encouraged to speak with staff before their swim and it is highly recommended that you wear a RealSwim Bag
The Lake is only open for swimming at certain times. Please be aware of these times and ensure you adhere to them. Swimming outside of the set times jeopardises the access of all open water swimmers to the Lake.
Swim Safety is provided, it is an additional safety layer but not a guarantee of your safety.
You should be fit and comfortable before undertaking swim fitness. We also encourage you to swim with a buddy, any time you swim in the open water. If you require assistance roll onto your back and raise one arm in the air. Stay calm.
Staff instructions should be obeyed at all times for your safety and for the safety of other swimmers.
Vehicle Access
Access gates are open 15 mins prior to a swim start time.
Parking available beside the lake.
Experience our Lake Fitness lap course in Lake Tahi / Roto Kohatu Reserve.
The below is hidden on all screen sizes. Its being left here for the 2019 winter season and when requested by Dan, it can be dragged back into the section above where it will display.